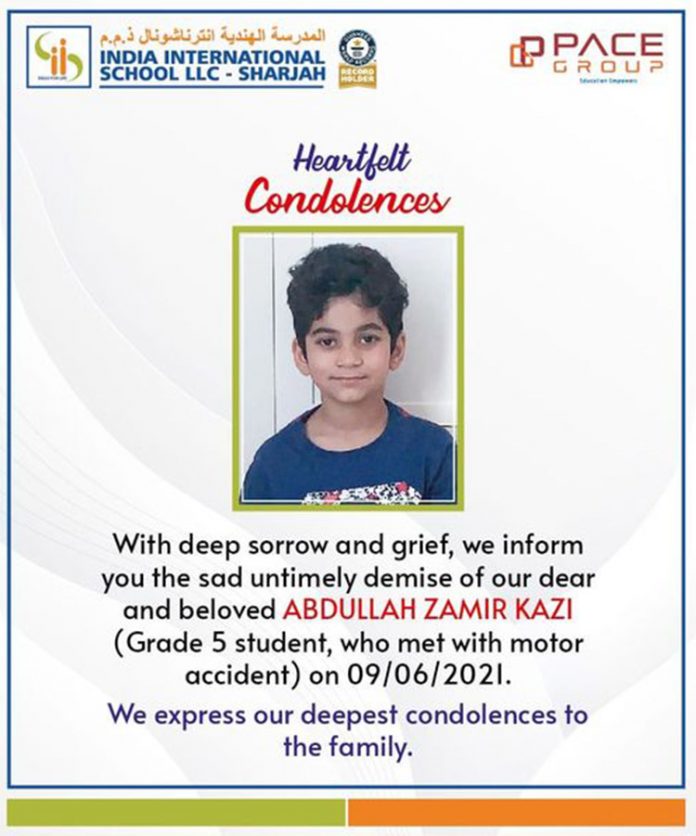 In a tragic incident, a young Indian student died after being injured in a road accident 15 days ago in Sharjah.
Abdullah Zamir Kazi, 10, a Grade 5 student of India International School in Sharjah, succumbed to his injuries.
India International School shared the news on its Facebook page and said, "With deep sorrow and grief, we inform you the sad untimely demise of our dear and beloved Abdullah Zamir Kazi (Grade 5 student, who met with a motor accident) on 09/06/2021.
We express our deepest condolences to the family."
The boy met with the accident on May 24 when he went to a shop near his house in Sharjah.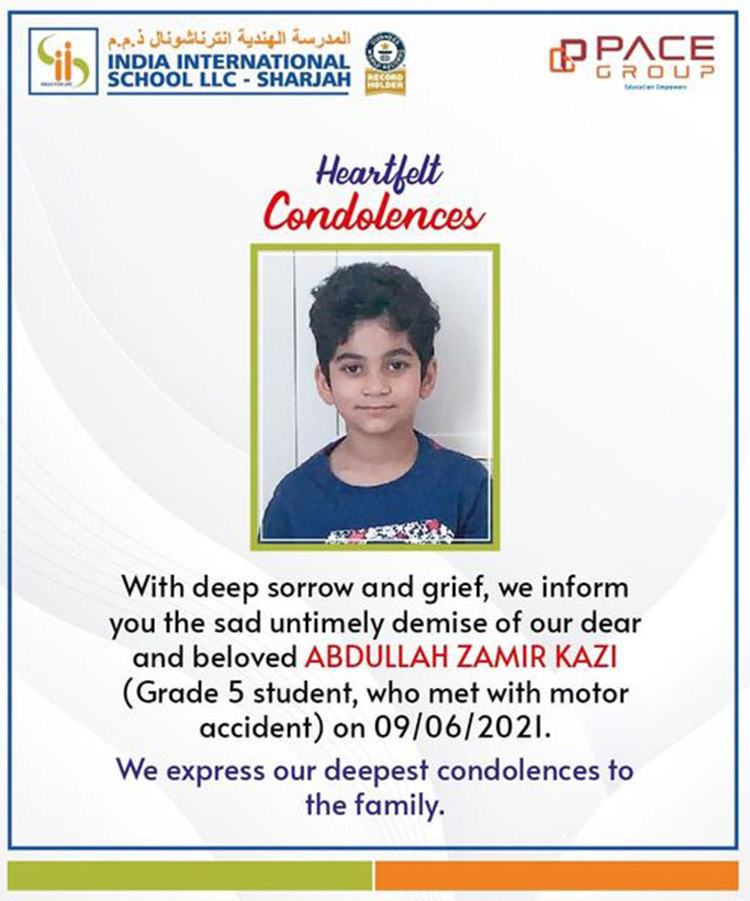 He was rushed to University Hospital Sharjah where he died on Wednesday.
Heartfelt condolences poured in for the family of the boy.
Rosaline D'Souza said on Facebook, "Deeply saddened to know about the tragic and untimely demise. May God give the family the strength and courage to bear this great loss of their beloved son, May his soul rest in peace."
Farida Lukmanji angrily responded, "Why people drive so recklessly… My deepest condolences to the parents of a child and Indian School's staff, It's very sad 😭😭"
Prem Titus wrote, "Deepest condolences. May the Lord give the parents solace! May the departed soul Rest In Peace."
Mubeena Azeem said, "Inna lillahe wa Inna ilayhi rajioon. Heartbreaking."
"May Allah bless him with a place in Jannah and bless the parents with patience and strength."
Sweedal Dbritto said, "May your soul rest in peace little angel you must be in God Almighty's arms…"
Fakhera Abbas Ghadiyali said, "Inna lilahe wa inna alaihe rajeoon…
"May God give strength for the parents to pass this time…"
Saba Khushtar said, "Inna lillahi wa inna alaihi rajioon… Heartfelt condolences to his family May Allah give his parents strength to bear this loss… Allah grant him highest place in Jannah Insha Allah…Ameen."
The authorities urged parents to keep a watch on their children when outdoors.
The police have urged motorists to adhere to the speed limits and allocate more time to complete the trip to avoid congestion and traffic accidents.