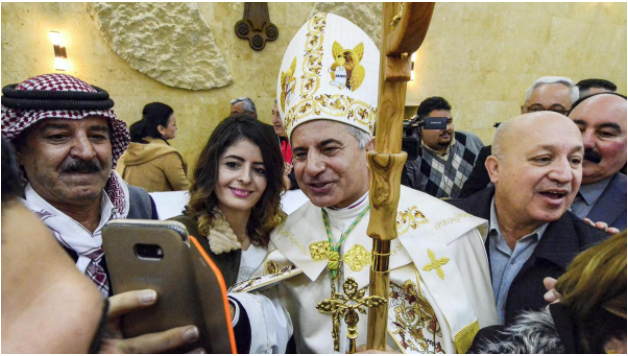 An Iraqi archbishop who saved under-fire civilians and ancient manuscripts from ISIS fighters been nominated for the prestigious Sakharov Prize for his work in defending human rights.
Najeeb Michaeel Moussa, the archbishop of Mosul, helped Iraqi Christians to flee in 2014 after ISIS took control of the city amid a week of fierce fighting.
He was living in Qaraqosh, about 30 kilometres south-east of Mosul, when he heard of the impending arrival of ISIS. He loaded up two cars with documents that dated back to the 12th century covering topics including theology, medicine and philosophy, he told US radio programme The World.
When they found out people were without cars and were desperate to flee, they piled men, women and children on top of the cardboard boxes carrying the delicate papers, he said.
"We said we will live together or we will die together," he told The World. "At 5.30am a young girl started saying, 'Father, Father, look at your right' and I see many cars with the black and white ISIS flags. They were ready to attack us."
He said Kurdish security forces were able to pin down the ISIS convoy with covering fire until the civilians could escape to areas they controlled. The manuscripts were saved, digitised and later exhibited in France and Italy.
"This is a real opportunity to give this prize to a courageous person, an undying defender of the Christians in that land, to recognise and underscore the effort of this priest who stood up to barbarism and saved those manuscripts from Iraq," said Nicolas Bay, the leader of a group of right-wing European MPs who nominated the archbishop.
The five nominees were chosen by groups from the European parliament and include the opposition in Belarus, represented by opposition leader Sviatlana Tsikhanouskaya, who took on the country's dictatorial leader Alexander Lukashenko in allegedly rigged elections in August. Activists in Poland and Honduras have also been nominated. Three will make a shortlist before a winner is announced on October 22.
Previous winners of the Sakharov Prize include Nasrin Sotoudeh, the jailed lawyer in Iran, who last week ended a hunger strike in protest at the continued detention of political prisoners in Iran during the Covid-19 crisis.
Among other previous winners are the Saudi blogger Raif Badawi, and Ilham Tohti, a defender of the rights of Uighur Muslims, who won the award last year while serving a life sentence on charges of separatism.