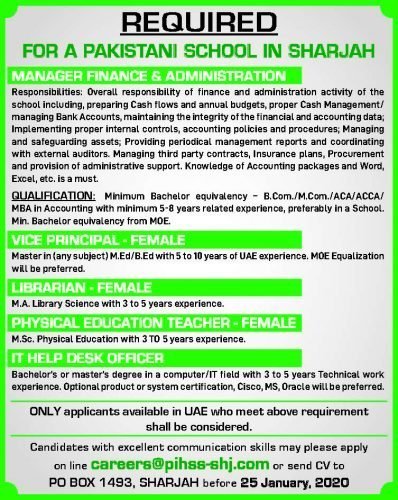 Industry: Education
Career: Mid Career
Job Location: Sharjah
Salary: Unspecified
Experience: 2 – 5 Years
Job Type: Full Time
Gender: Any
Email: careers@pihss-shj.com
City: Sharjah
Listed: January 20, 2020 2:54 pm
Expires: 28 days, 1 hour
Urgently Required Education Staff FOR A PAKISTANI SCHOOL IN SHARJAH (UAE)
MANAGER ( FINANCE & ADMINISTRATION ) :-
** Responsibilities :- Overall responsibility of finance and administration activity of the school including, preparing Cash flows and annual budgets, proper Cash Management/managing Bank Accounts, maintaining the integrity of the financial and accounting data; Implementing proper internal controls, accounting policies and procedures; Managing and safeguarding assets; Providing periodical management reports and coordinating with external auditors. Managing third party contracts, Insurance plans, Procurement and provision of administrative support. Knowledge of Accounting packages and Word, Excel, etc. is a must.
** QUALIFICATION :- Minimum Bachelor equivalency – B.Com./M.Com./ACA/ACCA/MBA in Accounting with minimum 5-8 years related experience, preferably in a School.
Min. Bachelor equivalency from MOE.
VICE PRINCIPAL – FEMALE
Master in (any subject) M.Ed/B.Ed with 5 to 10 years of UAE experience. MOE Equalization will be preferred.
LIBRARIAN – FEMALE
M.A. Library Science with 3 to 5 years experience.
PHYSICAL EDUCATION TEACHER – FEMALE
M.Sc. Physical Education with 3 TO 5 years experience.
IT HELP DESK OFFICER
Bachelor's or master's degree in a computer/IT field with 3 to 5 years Technical work experience. Optional product or system certification, Cisco, MS, Oracle will be preferred.
ONLY applicants available in UAE who meet above requirement shall be considered.
Candidates with excellent communication skills may please apply on line careers@pihss-shj.com or send CV to PO BOX 1493, SHARJAH before 25th January, 2020