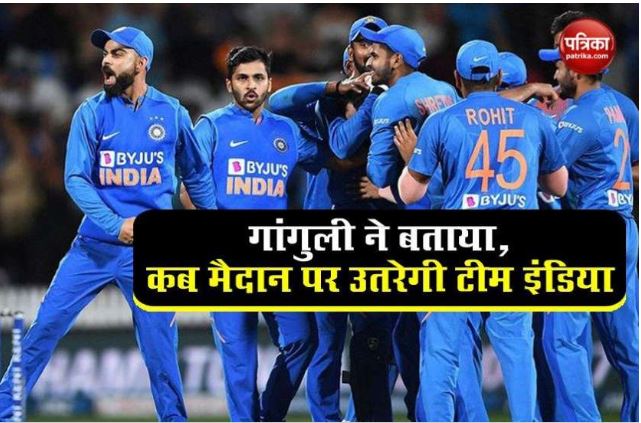 After the Corona break, the return of world cricket is going to be between ENG vs WI from July 8. In such a situation, Indian fans are curious about when Team India will return to the field.
New Delhi: Team India has been away from the cricket field since returning from New Zealand Tour due to Coronavirus epidemic. Team India returned from the Kiwi tour almost four months ago in March and will still stay away from the practice session for at least two months. This was said by BCCI President Sourav Ganguly himself, Chairman of the Board of Control for Cricket in India on a TV channel. Ganguly said that he himself has ensured that Team India does not field for practice before August.
Aakash Chopra talks about nepotism in cricket, example of Arjun Tendulkar and Rohan Gavaskar
No hope before august
Also Read: Disillusionment of Indians with Swiss Banks reached 30-year low, with 6 per cent cut
Sourav Ganguly said that there is no hope for the team of the players of Team India to be held before August, but it can be done after that. Let us know that after the Corona break, the return of world cricket will start between England and West Indies (ENG vs WI) before the start of the Test before July 8. In such a situation, Indian fans are eager to know when Team India will take the field.
It will take at least 21 days for the match to be fit
Team India players have been sitting at home for a long time. Cricket experts and coaches believe that it will take at least 21 days after outdoor training to begin to fit the match. They are likely to get hurt if they hurry too much. Apart from this, he will also have to achieve the rhythm by playing a practice match before landing in the match.
Virat Kohli's secret became number one, Hardik Pandya open secret in front of everyone




Two foreign visits have been canceled
South Africa came to India for the ODI series in March, but had to be postponed due to the threat of corona virus. After this, the players of Team India were to enter the IPL. Then in June, the Indian team was to go on a Sri Lanka tour. After this, he was scheduled to play T20 series with Zimbabwe team in August. The board has postponed all these tournaments and series in view of the health of the players.