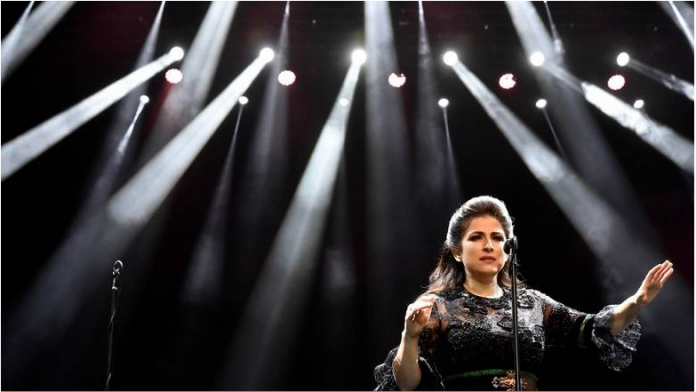 Star of Abu Dhabi Music & Arts Foundation's Ramadan Series gave her first show last week
When it comes to culture it doesn't get more high-brow and enjoyable than opera. Last week Lebanese soprano Hiba Al Kawas gave a stunning live-streamed performance of original composition Ibtihal (Invocation) on Abu Dhabi Music & Arts Foundation's Facebook page. The event launched ADMAF's first-ever series of bespoke music and visual art performances the organization is bringing to families during the holy month.
Al Kawas is known for merging Western classical music styles with Middle Eastern music traditions with her latest focus on the creation of the first "true Arabic Opera." She will live stream another performance tonight, Monday, May 11, at 10pm on ADMAF's Facebook. Here the artist speaks about her experience.
How does it feel to be part of this ADMAF initiative?
It means a lot. On one hand this initiative reveals the essence of culture in humanity and on the other, we are at a time where joining forces between musicians, artists and creative personalities in all fields is a way to create a solid authentic base for humanity. Real creativity heals as well as it writes down the history of this era. Only art can reveal sorrow through beauty, only art is able to document this new cycle of humanity on all levels.
Abu Dhabi is an old love to me, it was the first Arab city in which I performed other than Lebanon back in 1992. Today I see  a cultural dimension is being strongly emphasised, and with the efforts of ADMAF and its founder,  Huda Ibrahim Alkhamis, classical music and contemporary Arabic music are being encouraged, which makes Abu Dhabi a cultural statement in our modern times.
What does your performance involve?
I will be performing a world premiere I am composing especially for this performance based on a poem by Imam Ali Ibn Abi Talib, and another song that I composed as Part of my Opera work "Lights of Andalusia" and was never played in any country other than Oman.
How important is it to spread the message of the month especially this year?
Healing, love, and mercy are part of Ramadan's fundamental bases, bridging between humanity where people go hand in hand together. This year Ramadan is not like any other Ramadan that we have lived before. Humanity is in need to unite.
Can you see the benefit of this new era of online concerts?
The live stream broadcast is extremely new to me and it is a very personalised experience to both the public and myself, where the public is entering to my place. I am talking to them discussing philosophic and cultural opinions as well as music ideas. I am singing live with my piano at home, as if the public are invited to my place for a cultural salon online experience, or as well online concerts. The world was changing, and this time has given a forceful push for quicker steps to be taken. It is very interesting that I feel the audiences' interaction and energy while on stage. The experience of establishing communication and discussing music and ideas is an added value that we need to invest in for the coming period of time. The New World will change, and we need to invest in its tools. Bridging between the fine tradition and the future is needed at this time. Breaking the fear of this Pandemic and healing with music and sound is another connection that can mend our deep silence.