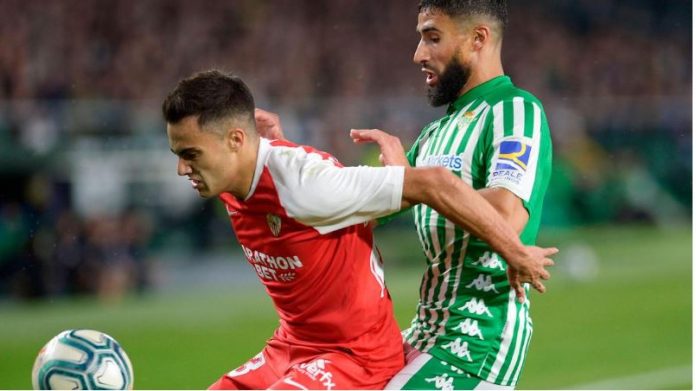 La Liga restarts with one of its most passionate meetings steeped in history
Real Betis fans gathered by the ornate metal arches on the Puente de Triana bridge in Seville on Tuesday night. Keeping two metres apart, a group of ultras let off fireworks, their green and white reflection bouncing off the Guadalquivir river.
Ahead of Thursday's resumption of Spanish football which starts with the Seville derby, the fans sang songs about their rivals Sevilla which demonstrated the animosity which pervades what is regarded as the fiercest derby in Spain.
Among those songs safe to print and which don't question the parenthood of Sevilla fans, Betis fans accuse Sevilla of playing in a shopping centre since their ground backs on to one.
Never mind that Sevilla – and Betis – have some of the best football grounds in Spain, double and triple tiered venues with minimal cover located three kilometres apart in Spain's fourth biggest city of 700,000, but since when has fairness mattered in football derbies?
Seville boasts a fourth huge arena, the city's Olympic Stadium, which was used for the 1999 World Athletics championships and staged Porto's 2003 Uefa Cup final victory over Celtic.
With 65,000 seats, this white elephant sits underused on the edge of the city, a testimony to the ambition – some would say over-ambition – of a city the size of Glasgow.
The city council tried to get at least one – if not both – of the clubs to move in. And they gave up. There's not a chance of them sharing.
Everybody knows of the matches between Barcelona and Real Madrid, but you'll be lucky to find a hundred away fans at either game.
Unlike England, Italy or Germany, Spain simply doesn't have a tradition of travelling fans. Espanyol and Barca fans don't travel, but in Seville, Europe's hottest city at present, there are usually 3,000 away fans.
Part of the intensity is because Real Betis and Sevilla are so similar, partly because Seville is renown for the passion of its football fans – one reason why the Spanish national side play there so frequently.
Sevilla have had a much better run of winning trophies so far this century, but Betis have far higher home crowds – 48,819 to Sevilla's 36,563.
Yet Sevilla, who take the name of the city, enjoy the bigger profile outside Spain.
Success in Europe has seen to that with a record five wins in the Uefa Cup/Europa League since 2006. They won a couple of domestic cups and a European Super Cup too, but before that 2006 Europa League cup win against Middlesbrough, Sevilla hadn't won a trophy since 1948; their only Spanish title came in 1946.
While Sevilla have played Champions League football, been praised for their recruitment of players from Daniel Alves to Ivan Rakitic, and finished in the top 10 every season since they were promoted in 2001, Betis are a yo-yo club.
Like Sevilla, they were also promoted in 2001 after a season in the second tier, unlike Sevilla they have been back down twice and have been unable to string together two consecutive seasons where they have finished in the top seven.
In their entire history Betis, Spain's fourth best supported club, have won two cups and won their only league title in 1935 under Irishman Patrick O'Connell, who had also played for Manchester United and managed Barcelona. He did that when Spain was on the brink of social and political meltdown before the civil war.
"Life as a Betico means a complete lack of consistency," explains long-time season ticket holder Ian Cassidy.
"We thought we were great under [current Barcelona boss] Quique Setien two years ago – and within a year he was sacked. Betis fans are quick to turn on their managers. Who else can they turn on when they invest so much in their team?"
Cassidy won't be at the derby at Sevilla on Thursday. No fans will since it'll be played behind closed doors and robbed of its usual fire in the stands and the march across the city to the rival stadium under the eyes of a police helicopter.
"It's far from ideal but the derby is all we're talking about," he says.
"This might sound sad but I hope Sevilla lose more than we win. I mean, what's in it for us? We're 12th in the table. Nothing is happening, but Sevilla are third and we can stop them finishing in the top four.
"And so what if they get into Europe again – if we win the derby then we have the bragging rights and that's what matters more in Seville, where fans live and work side by side. I'd like to watch Sevilla go down, but yet I wouldn't want them to be in a different league to us. We need each other, we need the derby."
Cassidy's talks about Betis' current fortunes through gritted teeth.
It's so frustrating that we're not higher up. We have squad that is good enough. We beat Real Madrid yet again in the match before the lockdown."
Betis boast top players: Marc Bartra, Emerson, Sergio Canales and this season's star, French international Nabil Fekir. The best of all is evergreen winger Joaquin, 39 next month and, implausibly, still the king of Betis.
"Joaquin has a fantastic character with a huge heart and a Sevillan sense of humour," explains former player and current technical secretary Alexis Trujillo about the local boy who dances, jokes and, on occasion, drives the team coach for a laugh. "He's loved here, the people love him as a person."
"You have to live to the full," Joaquin told The National. "My personality is suited to this club with a special feeling that goes beyond football. It's a family, it's a passion."
It hasn't always been smiles for Joaquin.
"We have been through difficult years here," he admits. "This club has lived beautiful moments in the past but many people here have never lived that, they've never seen us lift a trophy. Or compete in Europe with a Betis shirt. We have to challenge again now to be at the same level as the fans. That's what we all wish."
Betis' last derby at Sevilla's Sanchez Pizjuan was a 5-3 triumph in 2018.
"A special night," smiles Joaquin. "It has been a long time without a result like that and everyone wished for a victory there. Imagine what it was like? Five goals. Extraordinary."
Joaquin told his teammates that they had to stay out celebrating until 5am.
"One hour for each goal," he smiled. "We all stayed out until five – at least."
Betis are huge, their 61,000-seater stadium is superb and yet many football fans outside Spain don't even known that Betis are from Seville.
Within Spain, Betis' support is spread far and wide, the result of Andalusia's vast diaspora. Spain's biggest region is also one of its poorest. After the 2008 economic crisis, you'll still find nurses from Sevilla working in Birmingham or university-educated Andalusians working in bars in Berlin.
The immigration used to be internal and hundreds of thousands of Andalusians moved to Catalonia or the Basque Country in search of work in the 1950s and 60s. Betis boast 30 supporters' clubs in Catalonia and are always well supported on their travels.
Betis have no real international profile, as Cassidy explains. "No success isn't going to attract international fans. Those fans don't go to games, don't see the good things our club does, the vibe at the stadium, the cheap season tickets and they're not in the city living life as a Betico."
Betis have won only eight of their 27 games. They lost the November derby 2-1 at home and have won only one away game. Yet they were the last team to beat Barcelona at Camp Nou.
The club were formed in 1907 after the merger of Sevilla Balompie (a Spanish word for football) and Betis (the Roman name for Seville's River Guadalquivir) who had split from Sevilla FC much like Everton and Liverpool. The first derby match between the pair in 1909 ended in a serious brawl.
Controversy has been a hallmark of the rivalry.
Sprinkle that concoction with a series of facts and half-baked conspiracy theories and you begin to understand why there's no love lost.
Historically, Betis have drawn much of their support from the working classes and Sevilla from the social elite. Given the manner in which they were formed, it is hardly surprising.
Sevilla Football Club was founded in 1905, mainly by British employees of the Riotinto mines whose directors were from the upper classes that ruled Andalusia.
When one director refused to hire a worker as a player, allegedly because he was from a working-class background, there was a revolt, and in 1909 two dissident Sevilla directors founded Betis.
In 1914, they merged with another team to become Real Betis Balompie (Balompie is the old Spanish name for football and Betis the Roman name for Seville) and played Sevilla for the first time in 1916. Violence flared all over the city after the game.
Three years later, Sevilla controversially trounced the upstarts. "Several Betis players were doing their national service," explained a local newspaper editor when this writer last visited the derby.
"It was arranged that their barracks would be locked so that they couldn't let them play in the game against Sevilla. Betis were very angry about it and played only their young players. Sevilla won the game 22-0."
Sevilla have traditionally had the upper hand over Betis, with more seasons in the first division than the verdiblancos. Sevilla are sixth in the respected all-time Spanish league table, Betis 10th.
Betis' ground was bombed during the Civil War and many of their Basque players left the country.
Sevilla did better under Franco and although there's no evidence to prove that they were in cahoots with the General, they frequently finished in the top five in the 1940s and 50s, while Betis, the team with the leftist following, spent their time flitting between the top three divisions.
That's what Betis do, while also being brilliant and bonkers. This is a club which broke the world transfer record for Denilson in 1998.
Sevilla aren't adverse to madness either. A cheque to buy Robert Prosinecki from Barcelona bounced before the player had moved in the summer of 1996 and the Brazilian Bebeto had to return home when Sevilla failed to pay Flamengo his transfer fee.
In a signing unlikely to be sanctioned by a man like Monchi, who seeks still youthful rising stars, Diego Maradona joined Sevilla in the summer of 1992, the year the city staged EXPO. He played 26 times, scored five goals and was sent off twice. The Argentine was out of shape, but still had an amazing touch and vision and he inspired his teammates. Crowds flocked to watch the global superstar, the city's bar owners celebrated too.
Sevilla know Betis have the upper hand with crowds and plan to add an extra tier to the Sanchez Pizjuan home, named after their president from 1932 to 1956.
Pizjuan was astute in that he knew the value of land near the ground and invested wisely in it. There's now not much land left to sell apart from the stadium itself, located in the wealthy Nervion district by that shopping centre rival fans love to mock.
Marc Bartra, a central defender formerly with Barcelona and Borussia Dortmund sees parallels with his former German club.
"There are similarities to Dortmund here," explains the Spanish defender. "Humble, working class people who live their life through the club – and that makes it different. You can feel that as a player.
"I was at Barca and it's true that they have a lot of fans around the world, but the people here live for Betis. They know everything about the club. Everything."
Sevilla fans, naturally, see things very differently. They have numerous songs to wind up Betis fans about their lack of trophies and travels across Europe – much like Manchester United used to have with Manchester City before City became successful.
Sevilla knocked United out of the Champions League in 2018 and are still in this season's Europa League, a competition fans consider their own. Sevillistas call Betis fans 'palangas', a plastic toilet bowl.
"It's the biggest game of the year, even if you compare Madrid and Barcelona at home," Sevilla captain Simon Kjaer told The National before the game last season.
"The heat is going up day by day, it's what people have been talking about. I played two [derbies] last year and though I scored twice, unfortunately didn't get a win. I've played many big derbies [Istanbul, Rome, Sicily, Lille v Lens] and this is among the best.
"In Rome it's intense like Seville, but here's a big difference in the stadium. In Rome's Olimpic Stadium the fans are far away and it doesn't have the same impact as here in Sevilla or at Betis where you are close to the pitch. It's not easy to have a conversation during the game because the volume is so loud.
"We played against Liverpool, Barcelona and Real Madrid, but the derby is different, the pressure is more. You can feel the difference, the hatred. It's one of the greatest things that I've experienced in my career, one of the things I love about football.
"In Turkey there's even more hatred than in Seville, but La Liga has a much higher level than Super Liga in terms of speed and quality. Seville is the best derby I've played in Europe. If someone in the world wants to watch an intense derby, Seville would be the one.
"People live for the football in Seville and we have amazing fans with a lot of passion. The best way to make them happy is to get three points in the derby.
"We're playing for more than three points though, we're playing to show who is the strongest team in the city and I have never been in any doubt that it's Sevilla. The history shows that and it's important that we demonstrate that. A win would give the club a lot more energy."
The Dane Kjaer is now in Milan on loan at Inter and experiencing another renowned derby, but his team have done well without him. They are third and were in form before the lockdown.
Not that form counts for much as the heat rises, literally and metaphorically, for Spain's fieriest derby.