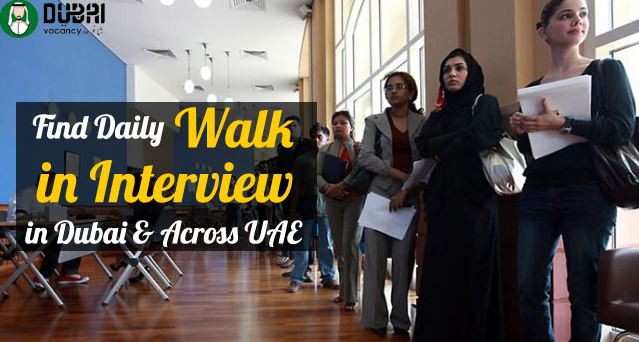 Let's moving forward to discuss what is Walk in Interview in Dubai and why the majority of job seekers are considering it as useful nowadays. The first question comes to those mind who doesn't know its importance. No doubt, Dubai is still a land of opportunities for job seekers where finding a job it's almost become a dream of many people, but struggle in the right path can land you on the table of interviewer.
Walk in Interview in Dubai, Abu Dhabi, Sharjah & Ajman
Don't Skip! Below you will find a piece of content where we have briefly discussed its pros and cons which will surely helpful to gather the right information and understand in this regard. Apart from this, we have made a complete case study in the form of video based on detailed research on walk in interview in Urdu/Hindi version which might be very helpful for newcomers and for those who left themselves in the dark.
A Detailed Research Video on Walk in Interview in Urdu/Hindi
What is Walk in Interview & Why Does Conduct by Employers?
When a company needs to hire a deserving person on the immediate basis without investing so much time to gather large number of CVs online they conduct walk in interviews by updating Date, Time, Location and Contact Numbers. Now, the question raised here what is walk in interview? Undoubtedly, a walk in interview strategy used to conduct face to face interviews and screening candidates by checking the ability, core skills and the great numbers of experience an interviewee gained. Once the interviews were done, the recruitment team shortlist them for a second interview by scanning their resume. In case, a person qualifies for a second interview. In the end, they select the most deserving one.
Advantages of Walk in Interview? (No Disadvantage)
I think based on my personal experience that face to face walk in interviews is much better than just sending CVs on random emails staying in the bedroom. Such activities will never welcome to opportunities on your door. Chasing a job quickly will not wrong in anyway when it comes to talking about advantages of walk in interview. Because some companies hire candidates instantly and given the job offer letter on the same day of hiring. But this happens in very rare cases when an employee left a company without giving a notice period or a workload increases massively.
Walk in Interviews in Dubai For Freshers (Sounds Good)?
I know you must be wondering about the heading where include the word "Freshers" and you should be wondered where every next jobs are being published for experienced professionals and every interviewer asks about the number of years of experience from an interviewee in an interview. This is all just happen due to tough competition and with the passage of time, Dubai's job market may become more tough. It's sad reality which can't be neglected. The reality of other side is some companies still announce walk in interview in Dubai for freshers and I just personally seen their job ads outside the office, restaurant, barber shop etc. Even I updated walk in interview for freshers job ads below several times.
Let's Explore Dubai Walkin Interviews This Week (New Updates)
Here we will be exploring walk in interview in business bay Dubai, Abu Dhabi, Sharjah and Ajman for our beloved visitors. Below job seekers can find the list of walk in interview in Dubai and across UAE which will be conducting this week.