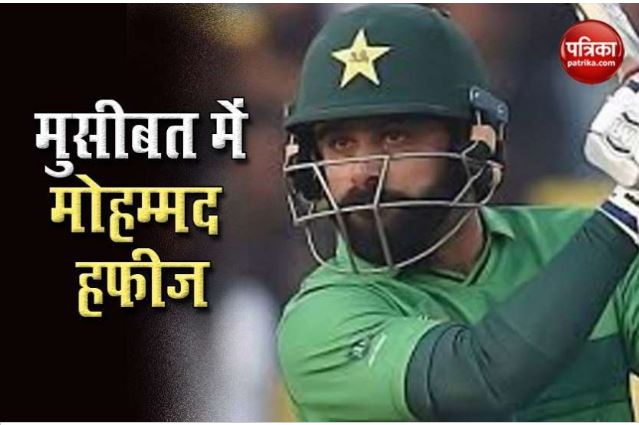 Mohammad Hafeez is upset with the Pakistan Cricket Board, as he advised them to move to Quarantine, but they refused.
Karachi: Pakistan cricket team's veteran batsman Mohammad Hafeez is seen getting in trouble. There is doubt about his coronavirus test. He was once again found infected in a third Covid-19 report. Please tell that after posting the report of corona virus on the Twitter page of Mohammad Hafeez, the Pakistan Cricket Board got him examined once more, whose report has come positive.




PCB is angry with Hafeez
According to information received from sources, all the Pakistani cricketers and support staff visiting England were tested at Shaukat Khanam Memorial Hospital. After this, he was advised by the Pakistan Cricket Board (PCB) to go to the Quarantine, but he once again underwent a corona test at a private hospital that was being played on the Quarantine. Its report came negative. He shared this on his Twitter and refused to go to the Quarantine. After this, the PCB had them tested again. Pissed by refusing to go to the Quarantine, the PCB can now take disciplinary action against Hafeez.
Now Mahendra Singh Dhoni is going to take big initiative, youth and children will get benefit
Also REad: PM Swanidhi Yojana: From July 1, street vendors will get 10-10 thousand rupees, PM Swanidhi scheme starting
Hafeez shared the report on Twitter
Mohammad Hafeez shared a separate report on Twitter the next day of the PCB's report that he and his entire family had once again undergone the corona test. The report of all this has come negative. He tweeted and wrote that he had tested himself and his family members again for a second opinion after finding Kovid-19 positive in the PCB investigation report. Everyone's report has come negative. May Allah keep us all safe.
These players were found positive
Please tell that Pakistan cricket team will leave for England tour on Sunday. In the report conducted at different centers, the report of three players Haris Rauf, Shadab Khan and Hyder Ali was positive for the first time. A day later, seven more cricketers, including a support staff, Fakhar Zaman, Imran Khan, Kashif Bhatti, Mohammad Hafeez, Mohammad Hasnain, Mohammad Rizwan and Wahab Riaz were also found to be Corona positive. In this way, 10 cricketers who have gone to England tour before the tour of England have been corona positive.
This is the whole program
Pakistan had selected 29 players for the England tour. Of these, Shoaib Malik would later go on a tour of England. Apart from this, after the report of 10 out of 28 cricketers came positive, 18 cricketers will leave for England on Sunday in the first batch. Pakistan has to play three Tests and as many T20 matches on the England tour. The first Test will take place in Manchester from 5 to 9 August. After this, the second and third Test will be played at Southampton between 13-17 and 21-25 August respectively. At the same time, the series of three T20 matches will be played in Southampton on 29, 31 August and 2 September respectively.